Temporary Nipple Tattoos!
Wednesday, October 9, 2013 @ 11:10 PM
My oncologist (Dr. Philamena McAndrew) just shared this website with me http://www.rubonnipples.com/
How cool is this?!?!  For women who can't afford or choose NOT to get nipple tattoos, these are so life like and will add so much confidence in intimate situations, or even something simple like a spa day or the gym shower.  No props lost to the ladies who rock the nipple-less boobies with all the moxy in the world! But I know that is hard for a lot of women.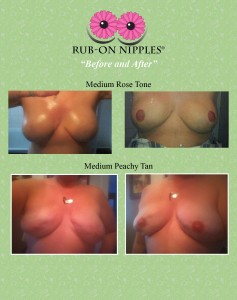 For me, I refused to even date after my breast reconstruction until I received my nipple reconstruction. I didn't wind up doing the nipple tattoos for a couple years later. I think they look pretty good and I haven't had any complaints! But it would have been awesome to add some color during my down time with these cool rub on nips!
Hats off to this cool company! I hope they do really well!
XOXO
Happy Boob Month!
-Elysia